---

What is new in Version 3?
MAP + version 3 has been under development since August 2019 and is now "ready for shipping". The innovations are extensive - it's not just a new version, it's a new generation of software:
Significantly simplified configuration with a new user administration that supports portals, profiles and groups
New Modules (MAP+ Enterprise):

Support of lists and geographical selections as well as their combination. In addition selected data can be exported in different formats
Nested forms with options for data capture on tables and linked tables, data upload of documents, videos etc.
PDF reports with map integration and the possibility of geographic analysis such as overlays
Advanced Editing for tailored applications
Thanks to the power of the new modules and their easy configuration, almost any kind of modules can be realized in a short time and without programming knowledge. Examples from ongoing projects:
Tree cadaster
Sewage
Lease land management
Determination of compensation for winter sports (cross-country trails, ski slopes, etc.)
Property sheet
Document management
Signaling
---

Simplified configuration with a new user administration
Terms
Terms such as profiles, groups, roles etc. always cause misunderstandings. Here are the terms we use for MAP+:
Owner:

Owner of an application
Top level or main directory
Example: Province

Portals:

Portals of the owner
Example: Subdirectories of "Province", i.e. municipalities

Profiles:

Profiles of a portal
Examples: "public", "restricted"

Groups (new in V3):

User groups
Examples: different "restricted" groups: intranet, extranet, office_x, office_y
New structure of the MAP + configuration
The structure of the configuration files has been changed so that the workload for setting up sites is minimized:
Configurations that apply to everyone are defined at the owner level. For example all layer and query definitions. If, for example, a layer is added, it only has to be defined at a single location. The assignment is made at portal, profile and group level.
At the other levels, only different configurations are defined.
Layer definition and layer structure are now managed separately. This allows you to assign layers and queries at every level with minimal effort.
Configuration of PDF printing only if it differs from the layer definition.
National Language Support (NLS) is also defined centrally at the owner level. Only different definitions on the other levels.
New User Administration
The user administration has been completely rewritten and provided with a new user interface:

Explanations:
On the left are the individual portals, in the example municipalities
Profiles are shown in the middle
On the right the groups
Existing portals, profiles and groups can be imported
Users can be configured as follows:

Super users: can see all portals, profiles, groups and can administer them
Administrators: Can administer portals assigned to them and create users
Users: Can see portals, profiles and groups assigned to them
---

Lists and geographical selections
This enables database tables and joins to be published as lists. The functionality includes:
Filter by database content
Smart boolean filter with three states: no filter, true, false
Search function across all fields
Geographic selection: selection (toggle on / off), rectangle, polygon. Also switch the option "only intersected objects" on or off
Any combination of filters and geographic selection
Clear selection: clears all filters and selections
Export function: JSON, XML, CSV, TXT, SQL, MS Excel
Selection of the fields to be displayed
The configuration is done via Json files and is a uncomplicated and straightforward.
Example: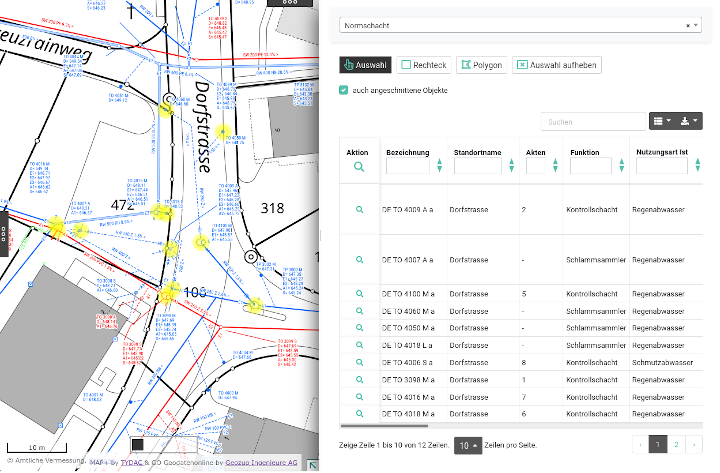 ---
Forms
Along with the lists, this functionality turns MAP + into a sophisticated database application:
Freely configurable with database tables, joins (1: n), views etc.
Any number of tabs
Freely configurable editing for user groups
Example (tree cadastre):
Selection from the list: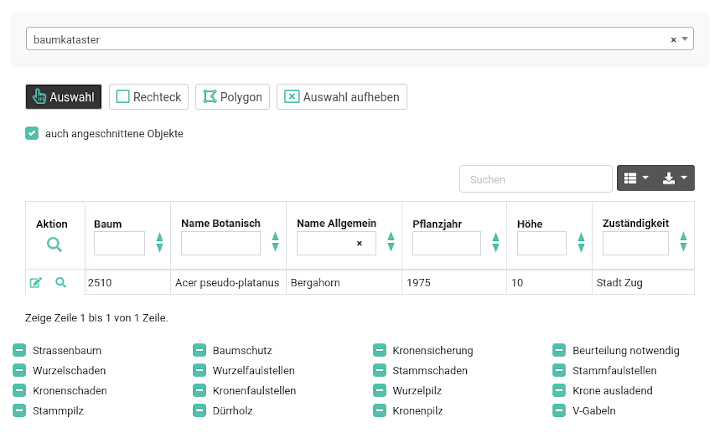 Form: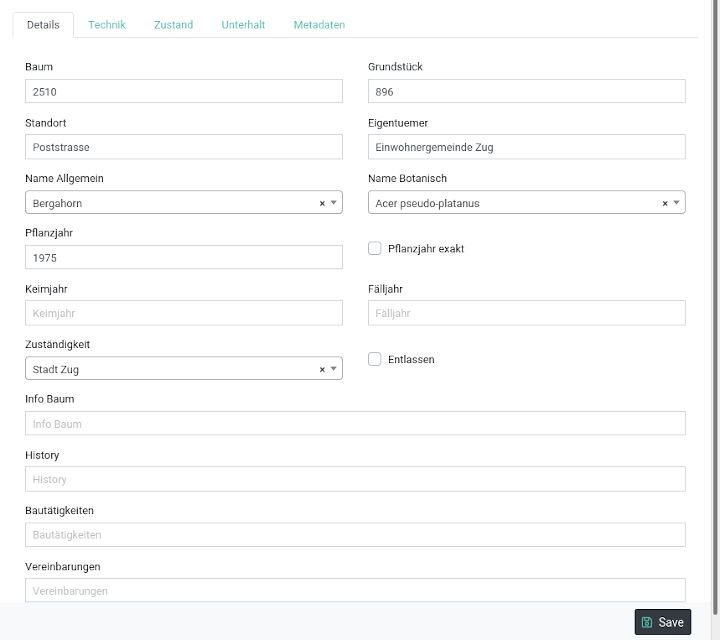 ---

PDF Reports
With this new module, not only maps can be printed as PDF, but also any combination of maps, database entries and geographical overlays. Examples:
---

Advanced Editing
The editing options of MAP+ based on PostGIS have been expanded in such a way that it does not have to hide from any desktop GIS. Advanced editing are sometimes very complex, tailor-made solution (as you can see in the example below).
Lines: Split lines
Polygons: Digitizing of multipolygons, donut polygons, clipping with adjacent polygons, splitting, merging, copying
Cross-layer copying of existing objects for further processing
Multigeometry: Points, lines and areas in the same table
Example: