---
GO - The WebGIS that adapts to your needs
Romano Hofmann, management, department head geomatics and GIS, Geozug Ingenieure AG:
"We see our WebGIS GO not only as a publication organ for geodata, but it is also important for our customers that they can manage and edit their own geodata. It is particularly important for work in the field (for example in municipal facilities) that the applications are very easy to use and can be used on different devices. TYDAC knows how to implement the demanding requirements intuitively (even for people new to GIS), creating stunning applications with manifold functionalities. Due to the easy-to-learn development options, we can offer our customers cost-effective, tailor-made GIS applications facilitating their everyday work."
Links (German):
In mid-2019, Geozug Ingenieure AG in Baar decided to build a new WebGIS for its customers. After a thorough market analysis, the decision was made in favor of MAP+. The first applications were already in operation in autumn 2019. Further applications and data from the following departments were gradually migrated:
Surveying and zoning
Technical infrastructure
Traffic and energy
Environment
Territorial and settlement development
Tourism and leisure
Thanks to the functionality of the new MAP+ modules, almost any tailored application can be developed in a short term and without any programming skills. Examples of implemented, entirely web-based modules in GO:
Sewage management
Street information
Document management
Tree cadastre
Traffic signs cadaster
Street infrastructure
Waste management
Administration leased land, corporation land
Creation and management of drawings
etc.
The new version of MAP+: Sophisticated web based GIS
What is outstanding with MAP+ V3?
Editing of geometries based on WMS services
Editing of geometries: points, lines. areas, multigeometry (tables with points, lines and areas), island polygons, multipolygons, copying of existing geometries, also from other layers, snap functionality, overlays, etc.
Editing of attributes: "normal" table contents, default values, lookups, dropdown lists, cascading dropdown lists, bulk editing (example: setting all attributes of a selection). This based on single tables or any combination of relational tables
Display of attributes, images, videos, PDF links, etc.
Upload of images, PDF documents, etc. - directly from forms
Lists: display of object lists, filter by geometry, filter by attributes, combined filtering, display of the selection in the map and export of the results
PDF reports: map section, attribute values from one or more linked tables, images, results from overlays etc.
And all of this can be implemented without programming knowledge, just using HTML and JSON files. The simpler modules were implemented by Geozug Ingenieure AG itself. The very complex modules such as Sewage Management System were implemented by TYDAC.
---
User administration: individually tailored applications
The new user administration allows to drill down rights to single attributes. An individual configuration can be defined for each user group with little effort, despite the complexity in a very simple way. For the application of the GVRZ (water protection association of the Zugersee-Küssnachtersee-Ägerisee region), 30 groups with different rights were defined (municipalities, engineering offices, suppliers, etc.).
Terms
Terms such as profiles, groups, roles etc. always cause misunderstandings. Here are the terms we use for MAP+:
Owner:

Owner of an application
Top level or main directory
Example: Province

Portals:

Portals of the owner
Example: Subdirectories of "Province", i.e. municipalities

Profiles:

Profiles of a portal
Examples: "public", "restricted"

Groups (new in V3):

User groups
Examples: different "restricted" groups: intranet, extranet, office_x, office_y
New structure of the MAP + configuration
The structure of the configuration files has been changed so that the workload for setting up sites is minimized:
Configurations that apply to everyone are defined at the owner level. For example all layer and query definitions. If, for example, a layer is added, it only has to be defined at a single location. The assignment is made at portal, profile and group level.
At the other levels, only different configurations are defined.
Layer definition and layer structure are now managed separately. This allows you to assign layers and queries at every level with minimal effort.
Configuration of PDF printing only if it differs from the layer definition.
National Language Support (NLS) is also defined centrally at the owner level. Only different definitions on the other levels.
Defining user groups rights
User group rights can be assigned as follows:
Available layers
Queries: which attributes a user can qeury
Editing: geometry and attributes can be assigned individually
Print layouts
Reports
---
Sewage Management Applications
Search, queries, data export
This allows database tables and joins to be published as lists. The functionality includes:
Filter database content
Smart boolean filter: no filter, true, false
Search across all fields
Geographical selection: selection (toggle single objects on or off), rectangle, polygon. In addition, activate or deactivate the option "only intersected objects"
Any combination of filters and geographic selection
Clear selection: clears all filters and selections
Export function: ESRI Shape, JSON, XML, CSV, TXT, SQL, MS Excel
Selection of the fields to be displayed
The configuration of the lists is done using JSON files and is a breeze ...
Example: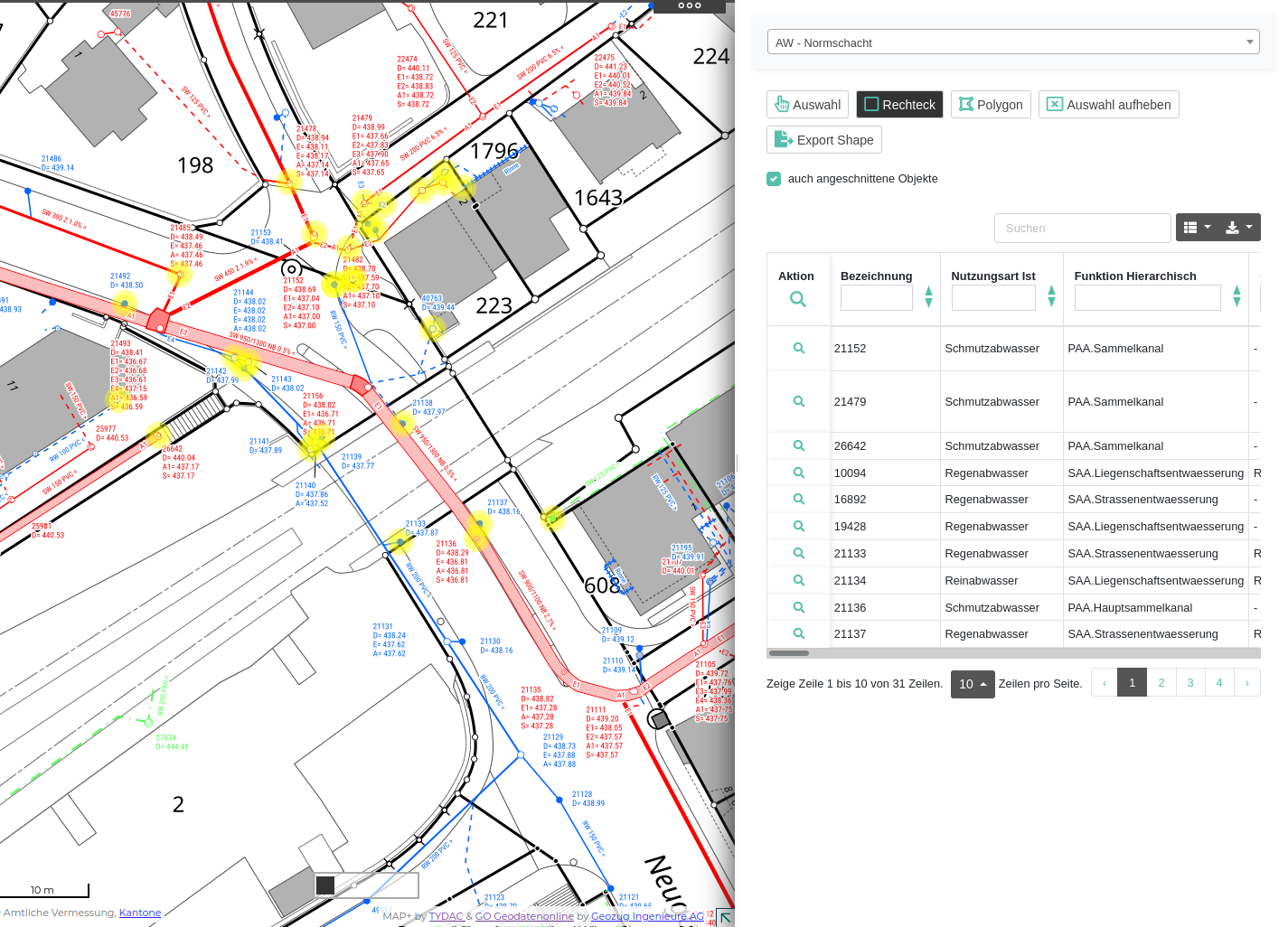 Sewage Management System (KMS = Kanal-Management-System)
Forms and Reports
KMS consists of a large number of complex, editable forms and reports:
Measures: Maintenance event, associated files (documents, images, videos), damage (videos), see example below
Investigations: maintenance event, details, files, damage
Cleaning
Dynamically generated reports: map, database content, photos (incl. link), link to documents: Example
Synchronization of the data edited in PostGIS with the main SQL Server database
Example measures: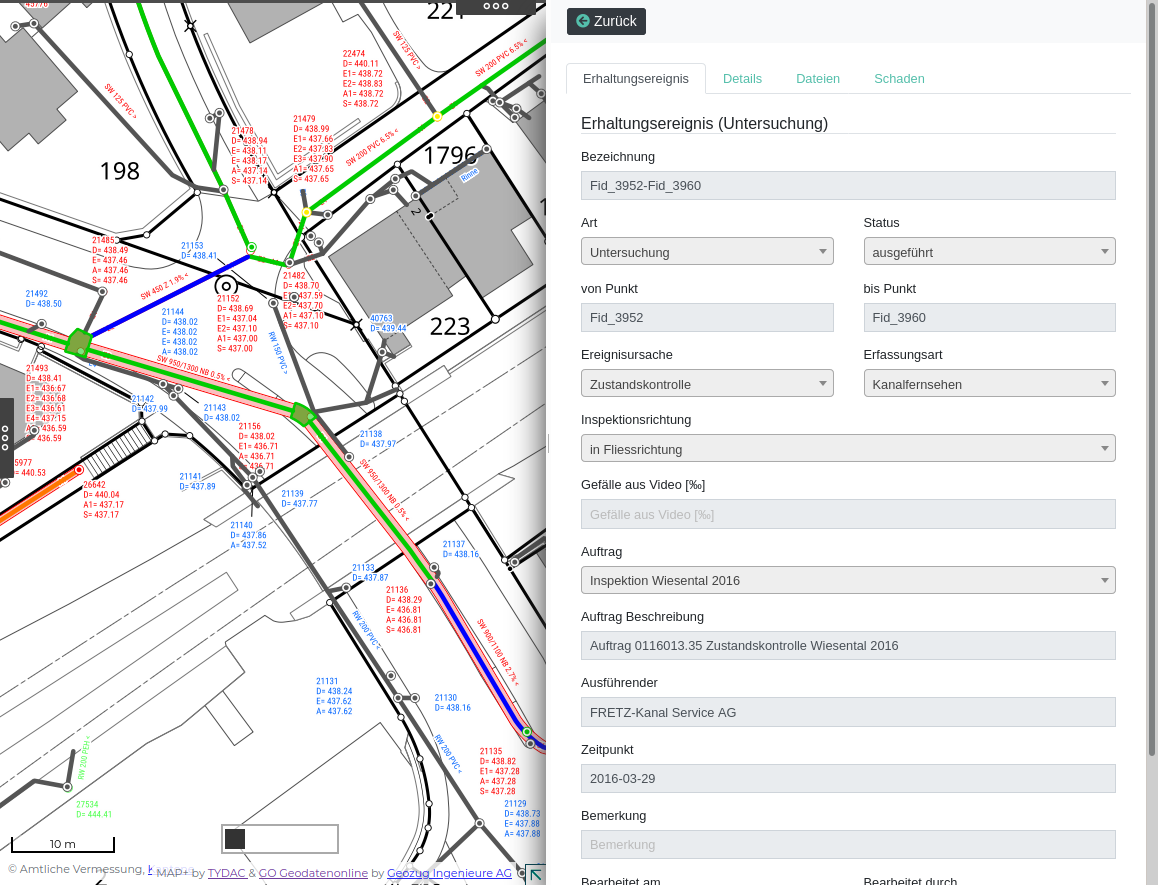 Detailed information about special structures
Elaborate, editable forms were created for the following special structures (in addition to countless reports):
Autonomous measuring locations
Discharge points
Pumping stations
Rain overflow
Rain overflow basins
Rain retention basins
Dividing structures
The data edited on the web is also synchronized with the main database.
Example pumping station: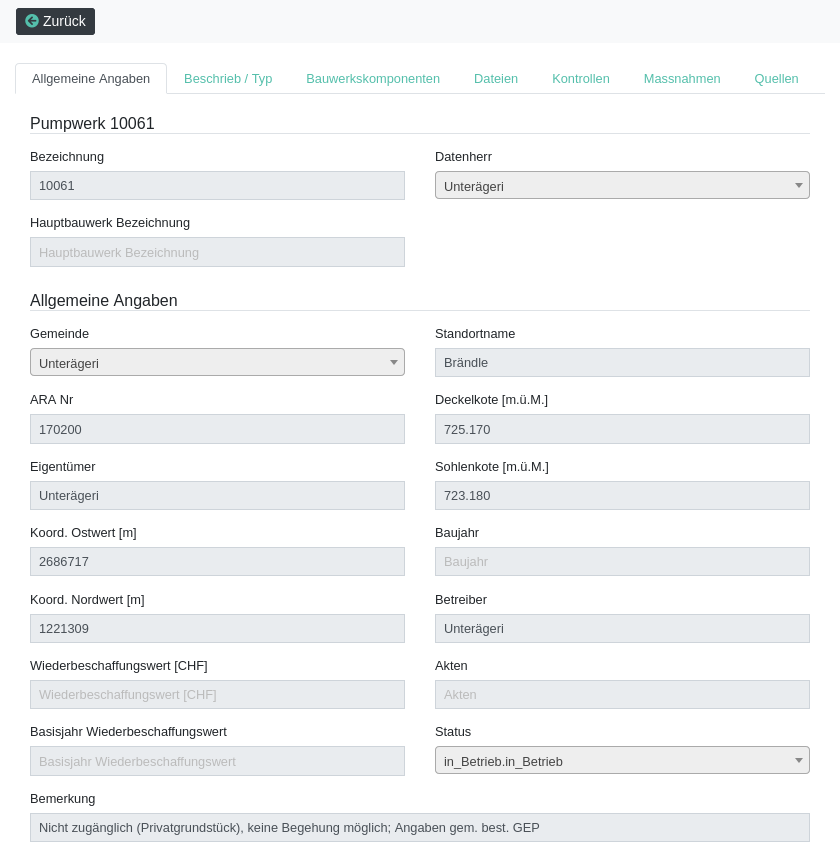 ---
Module traffic signs
Traffic signs cadastre of the city of Zug:
Signs as SVG graphics
Signs catalogue
Photos
Sign posts
Forms
Reports: example
Example: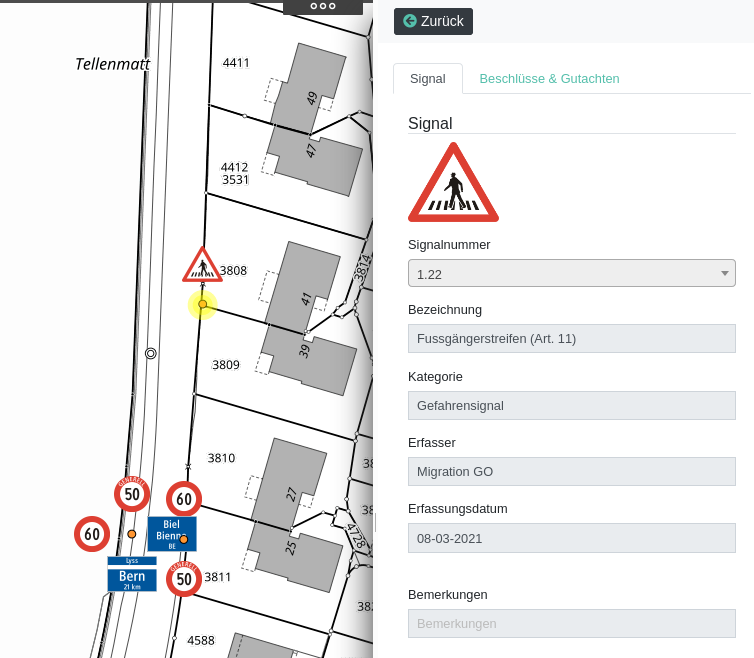 ---
PDF Reports, additional examples
With this new module, not only maps can be printed as PDF, but also any combination of maps, database entries and geographical overlays. Examples: